Hello and a very happy new year to you all! Welcome to the first pay day porn of 2016. One of my biggest new year's resolutions (yes, I'm one of those annoying annual resolution-makers) is to attempt to save more money - and not just a half hearted deposit into my savings account every now and then; I'm talking proper, monthly direct debit type behaviour.
For someone with a shopping addiction as fierce as mine it's going to take real discipline. But here's hoping that for the foreseeable future, putting together this list will entail nothing more than some wistful window shopping...
Embossed cotton t-shirt
, £9.99, Mango
T-shirts have become part of my daily uniform - at the risk of sounding like a complete fashion wanker, wearing them with tailored trousers is an instant smart caj look. I tend to gravitate towards plain white or grey so that they can go with lots of different outfits, but a small slogan or embellishment like this here Mango number jazzes things up nicely.
Bonjour Sweatshirt
, £75, Whistles
Ever since that early episode of Friends where Rachel wears a grey Knicks sweatshirt, I've lusted after one of my own. Finding one of the right thickness and length, minus a completely cringe-worthy slogan, has proved impossible so far, but hello! (or should that be bonjour...) I think Whistles might have finally come up with a winner here.
'Stay Grimey' Jacket
, $60, Despierta
Ok so the state of my January bank account aside, there are two reasons I'm unlikely to ever purchase this jacket: 1) I don't think I'm anywhere near cool enough to pull it off and 2) the brand only ships to places in the US. It's pretty amazing though...jealous of any stateside readers who might be adding this to their baskets.
Every January, I like to purchase a notebook: the new year feels like a blank canvas waiting to be filled and there's something about a new notebook and its white pages that captures that fresh start feeling. This hot pink number from Kate Spade is very cheering (if a little pricey...).
I'm not sure I have too many occasions that would merit the wearing of such a classy outfit, but I can imagine doing so would make you feel a lot like Lauren Bacall circa 1945. You'd just need a cocktail in hand and Humphrey Bogart on your arm to match.
Library Letters
, £6.95, Anthropologie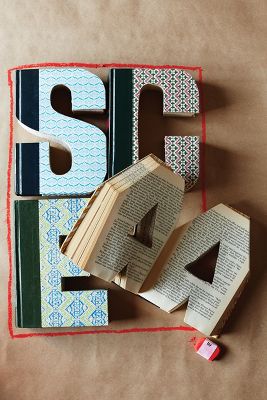 A childhood spent playing Sims and the (un)likelihood of ever owning a home of my own, like the stereotypical millennial I am, means that lusting pathetically over homeware is a pro pastime. These library letters are made out of vintage books and would brighten up any bookshelf. Though of all the letters they've run out of S, of course.
Lacoste Straightset Nude Leather trainers
, £85, asos
Well if these aren't just the stuff of my neutral palette dreams. The nude colour would match with pretty much everything I own, so these are a real test of my current window-shopping-only policy. Everyone seems to own a pair of Stan Smiths these days (yep, me included) and these would make a great - and more original - plain trainer alternative.
Raised Polka Dot Beanie
, £13, & Other Stories
I'm not a hat person - my round face means I accepted long ago that they were never going to do me any favours. But I might be tempted to make an exception for this cute woolly (and reduced) beauty from & Other Stories.
Scandi shop Kikki K seems to have popped up out of nowhere in London, and there's lots of pleasing stationery to be found in there (last week I spent most of one lunch time at the recently opened Covent Garden store perving over it). Without a diary, I'm double booking and forgetting things all over the place, so this lovely leather one with gold foil lettering should help to keep me organised as well as being mighty pleasing to the eye.